Please see the attached link –
Bus Registration
How to register for the school bus – click here.  http://www.sd62.bc.ca/wp-content/uploads/sites/11/2019/04/School-Cash-Online-Step-2019.pdf
As in previous years, we will be using the School Cash Online system for school bus registration. Registration is of course, free for families.
Please note:
Registration will open on time
Parents will not be able to select bus routes.
Experienced Transportation staff will place your child(ren) on the best routes as per your home address and school.
If you register by June 1, you will be notified as to which bus routes your child(ren) will be on before the end of the school year.
Bus passes will be handed out to middle and secondary students prior to or during the first week of school in September
Bus passes only apply to middle and secondary school students. Attendance will be taken in the elementary grades.
Drivers will begin enforcing passes during the first week of school in September.
Questions? Please check out some of the Frequently Asked Questions near the bottom of the Transportation page or contact the Transportation Department via email or call (250) 474-9845. Due to volume of inquiries, please allow 3-4 business days to receive a response.
Dear Families,
Click on the link below to open this weeks Parent Memo
Journey Middle School is having an Open House.  All Grade 5s are encouraged to come with their parents for a drop in visit.  It takes approximately 15 minutes to tour the school.  The Open House is scheduled for Thursday, April 11th from 5-7:30pm.  There is a brief assembly for Grade 5s and their parents at 7pm.  If you're interested in the Hockey Academy, registration opening March 4th and for more information visit the district website at http://www.sd62.bc.ca/academies/
Community involvement in the education system is key to our success as a progressive and collaborative learning community. We want to be sure we are communicating with our parents and community in the best way possible.
Complete this survey by Monday, March 18 for your chance to win one of four $25 gift cards to Indigo books. Click on the image or the link below to start the survey.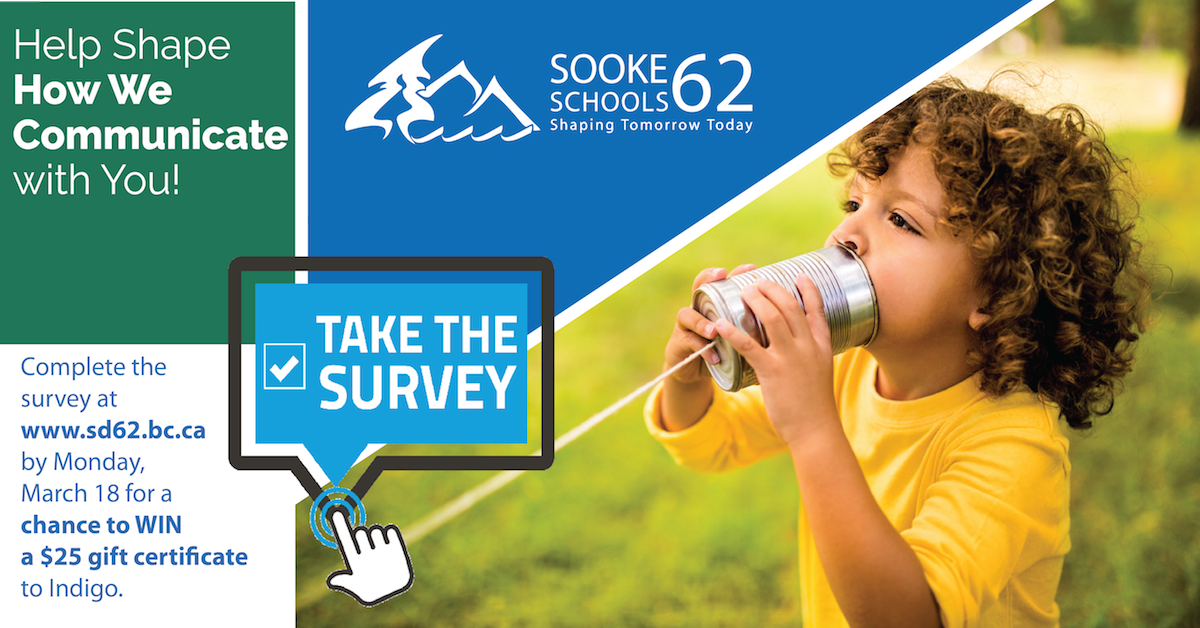 https://www.surveymonkey.com/r/SD62communications
With the outbreak of measles in Vancouver, BC, families may be wondering what steps they can take to protect themselves from measles. Vaccination is the best method of protection. All school-age children and adults born in 1970 or later should have 2 doses of MMR vaccine for full protection. Most people born before 1970 are immune to measles because of past exposure or disease.
Please take some time to check your vaccination records to see if you or your children need additional vaccination. Vaccination is available from physicians, pharmacists (for adults and children over 5 years), and public health units (for children). Call ahead to your healthcare provider to ensure that MMR is available at your appointment.
If you have any questions or would like more information about measles and MMR vaccine, please visit healthlinkbc.ca and immunizebc.ca.
Get your tickets now for our 4th annual District Day with the Victoria Royals!  The Royals will take on Prince George on Friday, March 1.  Featuring:  Prize Giveaways, Face Painting, Special Performances, Chuck-A-Puck and More!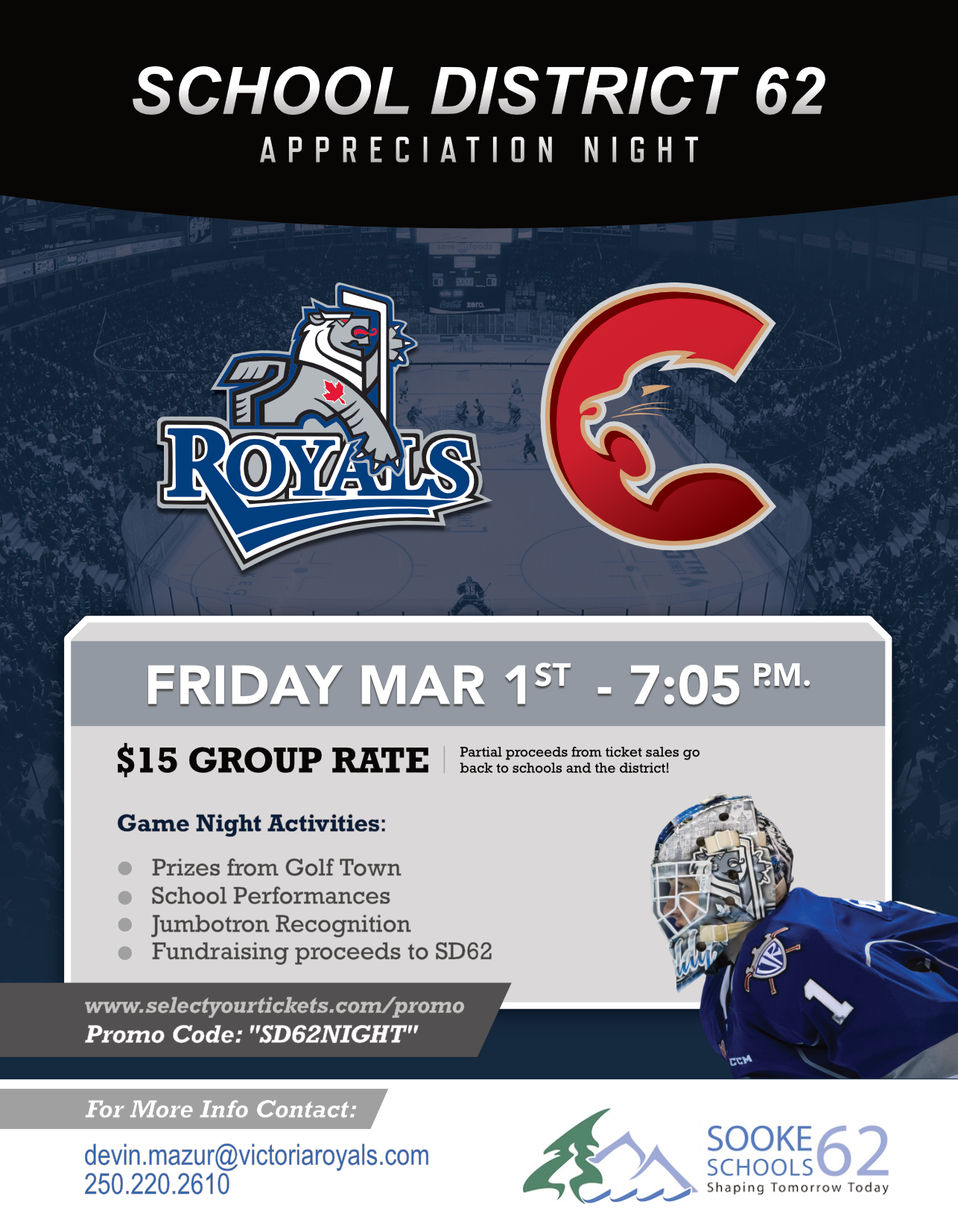 The Nature Kindergarten program in SD62 was one of the first of its kind in Canada when it was piloted in September 2012.  Its popularity and success have turned the program into an annual option for parents.
Students spend every morning outside, rain or shine, in natural settings (primarily on the property of Royal Roads University – Sangster students; T'Sou-ke Nation lands – Saseenos students).  Students then return to school for their lunch and remain in the classroom during the rest of the afternoon for indoor learning.
Nature Kindergarten is available at the following schools:
To register, children must turn five years of age by December 31 in the same calendar year that they begin school.
NEW- Lottery system for kindergarten registration
Due to high demand for Nature Kindergarten, if a school receives more registrations than the number of available seats, a lottery will take place. The lottery will follow the unique enrolment priorities for Nature Kindergarten and students will be placed in the order in which they are drawn.
The first nine in-catchment girls and nine boys as well as two aboriginal students drawn will be placed. Out of district requests will be considered only after in-district requests.
How to register:
1. Attend a Nature K parent information session prior to registration (mandatory)
2. Read the Registration Guide to make sure you have the required documents ready to upload during registration. After online registration is complete, parents have 7 days to present original documents to their neighbourhood school. We will accept original documents only – no exceptions. Students will not be officially registered until all documentation has been received.

3. Online at registration.sd62.bc.ca.
Registration for the 2019 – 2020 school year:
JANUARY 28 – FEBRUARY 1, 2019
Beginning at 8:00 a.m.
New immigrant families (permanent residents, refugees or those on work/study permit or diplomatic visas):
Please contact the SD62 International Office at 250-474-9818 or in person at 200-814 Goldstream Avenue before completing the online registration.
Frequently Asked Questions
How does the lottery work?
When the number of applicants exceeds the number of available seats, a lottery system will take place. The enrolment priorities unique to Nature K will apply to the lottery. The first nine in-catchment girls and nine boys as well as two aboriginal students drawn will be placed. Out of district requests will be considered only after in-district requests.
When will the results of the lottery be available?
Roughly one week after registration ends.
Do I need to enter the lottery in addition to registering my child?
No, the system will know once you select Nature Kindergarten during the online registration.
Do I need a computer in order to register?
Yes.  If you do not have a computer at home, you can access a computer at any of the following places:
Public library
A friend or family's house
Use your mobile phone
Do I need an email address to register?
Yes. All correspondence, including the offering of seats and waitlist status, are sent to an applicant's e-mail address.  This is the same e-mail address used when registering at your local catchment school.  It is important to have access to your e-mail account for school and district correspondence.
Do I need to fill out any additional information in order to register my child for Nature Kindergarten?
Yes. You must fill out a Nature Kindergarten application form that can only be obtained at one of the mandatory information sessions listed above. This application must be completed in full and submitted to the school before the end of the registration period.
Where can I learn more about Nature Kindergarten?